Austria: All FPO ministers resign from government amid video scandal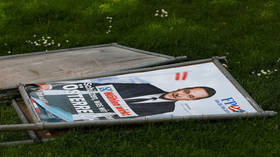 All Freedom Party (FPO) ministers have resigned from Austria's coalition government, after Chancellor Sebastian Kurz requested the country's president sack Interior Minister Herbert Kickl.
Kurz announced his request to President Alexander Van der Bellen at a press conference on Monday. Kickl, a member of the right-wing Freedom Party, had refused to resign, even after party leader and Vice Chancellor Heinz-Christian Strache stepped down from his post on Saturday, in the wake of a corruption scandal.
Kurz had argued that as interior minister and FOP member, Kickl was not fit to investigate his own party's leader.
Also on rt.com
Austria's Kurz proposes sacking interior minister as video scandal spirals
Kickl had threatened a mass walkout if sacked, and his party made good on that threat later on Monday, a party spokesman announced. After Kickl and Strache, five of the 13 ministers in Kurz' coalition government were FPO members or appointees.
Kurz has announced plans to fill any vacancies with non-political "experts," until snap elections can be held. At present, the fresh elections are slated for September.
Also on rt.com
'Reminds of Israeli political strategist Tal Silberstein' - Austrian Chancellor on tape scandal
The current scandal engulfing Austrian politics began on Friday, when German media published a video showing Strache allegedly soliciting a bribe from a woman purported to be the niece of a Russian oligarch in Ibiza. Kurz thoroughly condemned Strache's alleged corruption, but suggested that the video could have been the work of an Israeli political consultant hired by a rival party to discredit him in 2017.
Strache resigned on Saturday, but condemned the video as a "targeted political assassination."
In the wake of Strache's resignation, new party leader Norbert Hofer urged calm, and promised to do his best to ensure the "stability" of the country. When asked whether his party would pursue a motion of no confidence against Kurz, Hofer sid the question "is really still open."
Subscribe to RT newsletter to get stories the mainstream media won't tell you.
You can share this story on social media: