Eiffel Tower evacuated as man caught climbing Paris landmark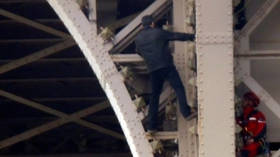 The Eiffel Tower in Paris has been evacuated after a man was caught climbing up the 324 meters (1,063 ft) tall French landmark. He has since been apprehended by police.
Footage from the scene shows a man scaling the tower as tourists linger on the grounds of the monument watching the scene unfold.
A specialist rescue unit of the Paris fire department has been deployed to the scene and BFM TV reported that the man was threatening to jump off the iconic structure.
The incident began at approximately 2:15pm local time. Security personnel soon segregated onlookers into different groups as a precaution and cordoned off the area.
"The Eiffel Tower is currently closed until further notice," the Eiffel Tower Twitter account said. "We kindly advise our visitors to postpone their visit."
The man reportedly began his ascent at the second level, at some 149 meters above ground level.
A number of tourists inside the tower were told to stay in place as police negotiated with the man however they have since been allowed to move. The man was eventually apprehended by police later Monday evening.
Some kind of security incident at the Eiffel Tower. We are at the top and not allowed to leave. Reports that someone is climbing the tower. Anyone know anything? #EiffelTower

— Claire Murphy (@ClaireEBMurphy) May 20, 2019
Like this story? Share it with a friend!