'US lagging behind in 5G': China's Huawei says Trump's ban only hurts American consumers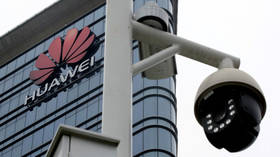 Chinese tech giant Huawei has slammed Washington's decision to ban it from the American market, warning that the move will only hurt Americans and leave the US behind in deploying 5G telecommunications technology.
Claiming that participation of "foreign adversaries" in developing America's 5G network will "undermine US national security or foreign policy interests," President Donald Trump signed an executive order on Wednesday barring US companies from using telecommunications equipment made by Chinese firms.
Also on rt.com
'National emergency': Trump bans Huawei & other 'adversary tech' from US telecoms
Huawei hit back, arguing that restricting the company's field of operation will not make the US "more secure or stronger." The ban will only "leave the US lagging behind in 5G deployment," Huawei told the Global Times. Nevertheless, the leading global information and communications technology solutions provider still hopes to work out its differences with Washington.
"Huawei is the unparalleled leader in 5G. We are ready and willing to engage with the US government and come up with effective measures to ensure product security," a Huawei spokesperson said.
Also on rt.com
US adds Chinese telecom Huawei to trade blacklist
If you like this story, share it with a friend!
You can share this story on social media: