Girl firepower: IDF vet 'Queen of guns' praises US firearm laws as 'best in the world'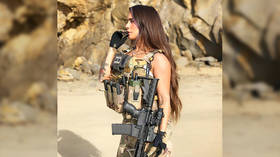 Orin Julie, an IDF veteran known on social media as self-styled 'Queen of guns' has said she is jealous of US firearm laws. She decried the tight gun legislation in her native Israel.
Julie told the Daily Caller that the US has the best gun laws in the world and has shared her frustration that, despite her years of active duty with the Israel Defense Forces, she is unable to legally own a firearm as a civilian back in her native Israel.
She reportedly specifically requested a combat role when she began her mandatory military service in 2012. She was given a cushy desk job instead but continuously pushed for active duty and her request was granted in 2013 when she was added to a prestigious search and rescue unit.
She began posting photos from her experiences as a combat soldier and was quickly contacted by a variety of gun manufacturers who inquired whether she would model for them.
"I brought something unusual to social media," she said. "No bathing suits, no bikinis, just me, my femininity, and firearms."
"Women can do whatever they want, as much as they want, and wherever they want," she added, "in the army or anywhere else."
Several videos on her Instagram profile showcase her proficiency with firearms from hanguns to so some seriously heavy weapons including the M60.
Julie has also criticized opponents of US President Donald Trump who tried to label him as an anti-Semite.
"His daughter is Jewish," Julie said. "He [His] son-in-law is Jewish. He moved the embassy to Jerusalem."
"The reality is, Barack Obama didn't love [Israel]. But Donald Trump? He supports us."
Also on rt.com
'Blatant pandering' to gun lobby: Dem chair announces hearing over Trump's UN Arms Trade Treaty exit
While she faces some condemnation on her social media profiles the majority of responses, particularly from those in the US, are positive.
"I was blessed with certain skills, and I all want is to be the best version of myself," she said in an interview. "I love the adrenaline of holding a gun. It makes me feel powerful and in control."
Like this story? Share it with a friend!
You can share this story on social media: