6.1 magnitude earthquake strikes Panama and Costa Rica border region – USGS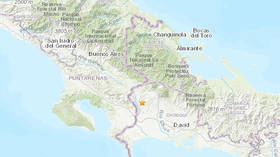 A 6.1 magnitude earthquake has struck the Panama-Costa Rica border region. The wider area around the quake is home to more than 400,000 people.
The quake struck on Sunday afternoon, and was initially reported by the European-Mediterranean Seismological Centre (EMSC) and the US Geological Survey (USGS). The EMSC reported the quake as happening at a depth of 12km below the earth's surface, while the USGS put the depth at 37 km.
A 6.1 magnitude earthquake is considered a "strong" quake, and can cause extensive damage in populated areas. Only 100 such quakes happen worldwide every year.
Eyewitnesses told the EMSC that the quake was "very strong" and shook buildings. Video footage captured near David, Panama, showed supermarket shelves toppled by the quake, and products thrown to the floor. Additional footage shot in a rural area showed wooden houses partially collapsed after the quake.
The quake's epicenter was 48km northwest of David, Panama's second-largest city, and 201km southeast of San Jose, the Costa Rican capital.
DETAILS TO FOLLOW
You can share this story on social media: