Iran's row-back on nuclear deal is legal & reversible – Foreign Minister Zarif (VIDEO)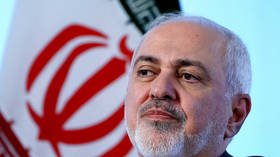 Iran's Foreign Minister Mohammad Javad Zarif has said Tehran's decision to row back on its commitments under the nuclear pact is reversible, and the deal can be saved if European states meet their obligations.
Zarif is currently in Moscow, where he told Russian Foreign Minister Sergey Lavrov that Iran's move doesn't violate the original terms of the 2015 agreement. He added that there's now a 60-day period for diplomatic activity over its decision.
Iran can guarantee the continued survival of the deal if European nations fulfill their obligations under the agreement, Zarif said.
Iranian President Hassan Rouhani announced earlier on Wednesday that a gradual scale-down of its commitments under the 2015 nuclear deal would begin in 60 days. He said the two-month deadline would allow for diplomatic discussion to keep the nuclear deal going.
Also on rt.com
Iran stops selling excess uranium, will enrich to higher level in 60 days unless Europe acts
Iran says the move is a response to the US' withdrawal from the agreement one year ago, and the external pressure that has been placed on Tehran as a result. Zarif said only Russia and China have supported Iran and helped it to keep the nuclear deal going.
Zarif blamed the other signatories – Britain, Germany and France – for failing to shield it from US sanctions. France said that the three European states are doing all they can to keep the accord alive, while China has stated that all sides have a responsibility to ensure the agreement is fully implemented.
"Yes, they made some nice statements," Zarif said of comments from European leaders. "But in practice nothing happened."
Think your friends would be interested? Share this story!
You can share this story on social media: