Captain of ill-fated Superjet says 'landing speed was normal', fire broke out after touchdown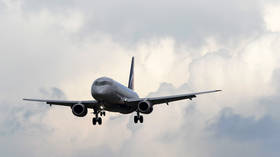 An Aeroflot captain who piloted the Superjet 100 in Moscow has revealed harrowing details of the accident, saying he had to crash-land with full tanks, which possibly led to the jet catching fire right after its bumpy touchdown.
There was "a bright flash and a bang" moments before the pilots began an immediate descent into Moscow's Sheremetyevo Airport, Denis Evdokimov, a captain on the ill-fated Aeroflot flight, told Telegram channel Baza. To make matters worse, communication with the ground failed "because of a lightning strike."
The failure left the crew with no option but to perform a manual landing. They finally managed to establish radio contact and "could only say a couple of words" to the air traffic control, who guided them back to the runway, Edvokimov recalled.
READ MORE: Fiery Sukhoi Superjet-100 crash-landing: How it happened
While attempting to land, the jet struck the runway several times, probably damaging the fuel tanks and causing a fire to ignite in the rear of the fuselage. But the captain failed to explain why the touchdown was so hard, only saying that "we had caught fire upon landing."
The crew didn't seem to have any trouble during descent, he said. "The speed wasn't high, it was normal. [We acted] according to the flight manual." However, the jet's weight was much greater than required because of its full tanks, making it extremely challenging to safely land a 45-ton airliner on a runway, the pilot said.
Видео с камер Шереметьево: "Суперджет" на большой скорости ударяется о полосу, подскакивает, после чего бьётся ещё раз и загорается. pic.twitter.com/zAncjmzBg5

— baza (@bazabazon) May 5, 2019
He and his first officer followed a protocol on landing an overweight plane, but it could be the bumpy touchdown that ignited fire on board, Evdokimov suggested.
The plane was flying to Murmansk, a city in the north of Russia, carrying 78 passengers and five crew members. Shortly after take-off, the pilots declared an emergency and turned back. The Flightradar24 tracking service showed that the jet circled twice around Moscow before it hit the runway after spending less than half an hour in the air.
The plane was evacuated immediately after coming to a complete stop, with surviving passengers having to escape on emergency exit slides as the engines were engulfed by flames. A total of 41 people on board died in the crash-landing. The 37 survivors comprised 33 passengers and four members of the crew.
Aeroflot, Russia's flag carrier and one of the oldest airlines in the world, currently flies 50 Sukhoi-built Superjets. The planes usually service short- and medium-haul destinations within Russia and abroad.
Think your friends would be interested? Share this story!
You can share this story on social media: