Ceasefire reached between Gaza's Palestinian factions and Israel after 2 days of fighting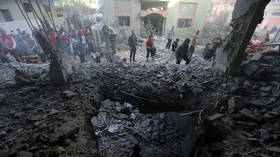 Hamas and Israel have reached a ceasefire agreement, according to Palestinian and other media, following two days of intense cross-border confrontation between Gaza and its neighbor, in which both sides suffered casualties.
The ceasefire was expected to go into effect at 4:30 am on Monday (01:30 GMT), according to the Times of Israel, which noted there had been no rockets for two hours before the announcement.
The deal, reportedly brokered by Egypt and the European Union, was also confirmed by a second Reuters source, as well as a TV station belonging to Hamas.
Also on rt.com
Israeli, Palestinian civilians killed as Gaza militants & IDF exchange HUNDREDS of rockets
At least 25 Palestinians died and another 125 sustained injuries in some 320 air raids carried out by the IDF against militant targets in the enclave since Saturday, WAFA news reported, citing the Gazan Health Ministry.
Four people in Israel died as a result of the attacks, while at least 10 others were injured by shrapnel from rockets, missiles and mortar shells from the Gaza Strip, after militants launched over 600 missiles at southern Israel, local media reports. The IDF has yet to comment on the reports of a ceasefire.
If you like this story, share it with a friend!
You can share this story on social media: