Footage from INSIDE crash-landed Superjet-100 showing raging INFERNO emerges online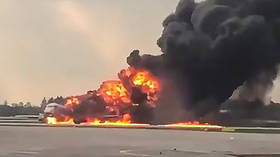 Terrifying footage that appears to be shot from right inside the burning half of the Russian Superjet-100 that crash-landed in flames in Moscow has emerged online.
Filmed by a passenger sitting next to the window looking almost straight into the fire, the extremely distressing footage shows how the plane's blazing engine bursts into an all-out inferno. Screams of women and children can be heard in the background.
WARNING: DISTURBING FOOTAGE
Видео из салона самолета Москва-Мурманск, сгоревшего при посадке в Шереметьево.Люди в панике, огонь охватывает почти все за бортом. pic.twitter.com/CAjKgT8cZQ

— Breaking Mash (@BreakingMash) May 5, 2019
The video seems to have been filmed after the ill-fated jet had returned to Moscow's Sheremetyevo airport for its fiery crash-landing, but before the airliner was evacuated.
Aeroflot Flight SU1492 took off from Sheremetyevo on Sunday evening, bound for Murmansk. Shortly after takeoff, the crew declared an emergency and returned to Moscow. After crash-landing in a streak of smoke and fire, passengers hurriedly evacuated the burning plane, as fire crews rushed to contain the blaze.
Also on rt.com
Superjet-100 plane BOUNCED, hit ground, BURST its engines during landing – leaked CCTV footage
Investigators reported Sunday night that out of the plane's 78 passengers, only 37 survived. Another seven were reported injured earlier on Sunday. Russian President Vladimir Putin has expressed his condolences, and ordered the authorities to conduct a thorough investigation of the incident.
Think your friends would be interested? Share this story!
You can share this story on social media: