Superjet-100 plane BOUNCED, hit ground, BURST its engines during landing – leaked CCTV footage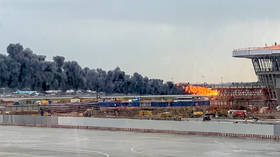 Leaked security camera footage shows the ill-fated landing attempt of Sukhoi Superjet-100 at Moscow's Sheremetyevo Airport. The jet bounces and then smacks into the tarmac, rupturing its undercarriage and bursting into a fireball.
The footage of the crash-landing was captured by an airport security video camera and uploaded to Telegram channel Baza. It shows the aircraft attempting to land at speed, but then bouncing off the runway. Another touchdown attempt is made seconds later, but the plane's undercarriage apparently collapses, smashing its engines and triggering a massive fireball.
Aeroflot Flight SU1492 had declared an emergency shortly after takeoff on Sunday. The plane was bound for Murmansk before it returned to Sheremetyevo to crash-land. After the plane ground to a halt on the runway, passengers rushed to evacuate and fire teams extinguished the blaze. Investigators stated Sunday night that of the plane's 78 passengers, only 37 survived. Another seven were reported injured earlier on Sunday.
Also on rt.com
13 people, including 2 children, confirmed dead in Superjet-100 crash-landing in Moscow
Think your friends would be interested? Share this story!
You can share this story on social media: