Sirens ring out & explosions heard as rockets from Gaza target Israel's south (VIDEO)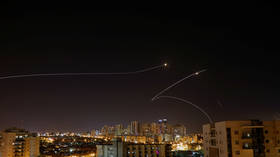 Rocket attacks on Israel continue into the night, even after the Israel Defense Forces launched airstrikes and tank bombardments against Hamas and Islamic Jihad targets in the Gaza Strip.
Israel says over 430 rockets have been launched by Hamas and Islamic Jihad. Sirens were ringing most of Saturday and through the early hours of Sunday in Eshkol, Ashkelon and other cities in proximity of the Gaza Strip.
One man was reported killed in Ashkelon when a rocket hit his home, and nine people were wounded.
Several hours earlier, sirens wailed and a rocket barrage rained down on the city of Be'er Sheva. The largest city in southern Israel, Be'er Sheva is usually out of range of all but Hamas' longest-range projectiles.
Many of the rockets launched were intercepted by Israel's Iron Dome missile defense system. Shortly before Be'er Sheva was targeted, interceptions were observed over Ashdod, less than 30km up the coast from the border with Gaza.
Amid the ongoing standoff, the Islamic Jihad released a video vowing to strike nuclear research facility in Dimona and other strategic sites, including Ben-Gurion International Airport. Footage showed militants loading rockets into a launcher, followed by a list of targets which also included Ashdod port and refineries in Haifa. Hamas also noted that the "next step is to blow up Tel Aviv."
Palestinian death toll higher
Israel pinned responsibility for the attacks on Hamas and Palestinian Islamic Jihad militant groups, and launched airstrikes in response.
Israeli planes continued their raids into the Gaza Strip overnight, targeting various buildings, according to the Palestinian news agency WAFA.
Israeli tanks also pounded targets in Gaza, with the IDF claiming to have successfully hit Hamas weapons factories and intelligence headquarters, and destroyed Islamic Jihad "terror tunnels" used by terrorists to sneak into Israel.
Also on rt.com
3 killed, including infant & pregnant woman, as IDF unleash retaliatory strikes on Gaza – officials
The Israeli strikes claimed at least three Palestinian lives, including a 14-month-old baby and her pregnant mother, according to the Gaza health ministry. A 22-year-old man was also killed, although it is unclear whether he was a civilian or a Hamas operative.
#IsraelGaza: The #IDF says it doesn't believe that a #Palestinian mother & baby were killed in an #Israeli airstrike.According to the army's intel, the deaths were caused by #Hamas militant activities, not the result of an airstrike.Hamas has put the Palestinian death toll at 5

— Paula Slier (@PaulaSlier_RT) May 4, 2019
At least eight Palestinians have died since tensions escalated on Friday, Palestinian News agency Wafa said, and at least 30 civilians sustained injuries. Palestinian President Mahmoud Abbas condemned the Israeli aggression on Gaza, noting that "the silence on Israel's crimes and violations of international law encourages it to continue its crimes against the Palestinian people."
Meanwhile, Gaza's Health Minister Mai al-Kaila, called on the international community to urgently intervene and hold Israel responsible for "crimes" against the Palestinians. She also said that hospitals in Gaza are in urgent need of medicine and other supplies.
Also on rt.com
Turkey to keep exposing 'Israeli terrorism' despite airstrike on Anadolu bureau in Gaza – Erdogan
On the Israeli side of the border, an 80-year-old woman was severely wounded in a Palestinian rocket strike on the city of Kiryat Gat, and remains in "serious condition." Another 49-year-old man in Ashkelon was moderately wounded, while a 15-year-old boy who failed to find cover in time managed to escape with mild injuries.
Violence resumed in Gaza this week after militants fired a rocket into Israel on Tuesday. Two Israeli troops patrolling near the Gaza border were then shot, triggering retaliatory IDF airstrikes. As the fighting escalated, Hamas promised a tit-for-tat response.
Subscribe to RT newsletter to get stories the mainstream media won't tell you.