Trump & Putin talked on phone about possibility of a new nuclear agreement with US, Russia & China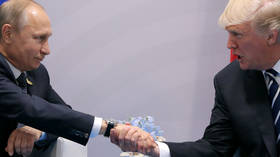 US President Donald Trump has spoken by phone with Russian President Vladimir Putin about the possibility of a "new nuclear agreement" in a call which lasted a "little over an hour," the White House said.
The Kremlin has confirmed the call took place.
Regarding the possibility of a nuclear agreement, Press Secretary Sarah Sanders told reporters it could either be a new multilateral nuclear accord between the US, Russia and China — or the extension of the current US-Russia strategic nuclear accord.
The US announced in February that it would end its participation in the Intermediate-Range Nuclear Forces (INF) Treaty, which had been a cornerstone of European security since 1987. The White House cited Russian violations of the treaty as the reason, although Russia denied the violations and accused Washington of using "fabricated" evidence to justify its withdrawal from the agreement.
Also on rt.com
INF withdrawal imperils not just Europe, but US as well
Russia suspended its own participation in the INF treat in a "mirror response" to the US decision.
Sanders said Trump and Putin also discussed North Korea, with Trump urging Putin to put more pressure on Pyongyang to denuclearize. The pair also discussed the unfolding political crisis in Venezuela.
On Venezuela, Trump is said to have reiterated the need for a "peaceful transition" of power. The Trump administration has found itself at loggerheads with Moscow over its calls for regime change in Caracas and threats of military action if current President Nicolas Maduro does not heed warnings and step down to allow the US-favored opposition leader to seize power.
Top US national security officials met at the Pentagon on Friday morning to discuss military options for Venezuela.
Sanders said the conversation also briefly touched on the recent publication of the Mueller report, which cleared Trump and his 2016 campaign team of alleged "collusion" with Russian officials. Sanders said Trump and Putin also discussed US-Russia trade and added that it was "an overall positive conversation."
Trump tweeted shortly after the call that he had a "good conversation" with Putin and that "getting along with Russia, China and everyone is a good thing."
Had a long and very good conversation with President Putin of Russia. As I have always said, long before the Witch Hunt started, getting along with Russia, China, and everyone is a good thing, not a bad thing....

— Donald J. Trump (@realDonaldTrump) May 3, 2019
Also on rt.com
Reality check: CNN's claim that Trump has been unwilling to confront Putin is total bulls**t
Subscribe to RT newsletter to get stories the mainstream media won't tell you.
You can share this story on social media: