I won't surrender to extradition 'for doing journalism' – Assange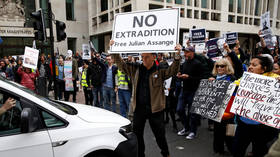 WikiLeaks co-founder Julian Assange, jailed by the UK authorities for 50 weeks over skipping bail, is adamant to fight the US extradition request, as Washington wants him for merely "doing journalism."
Assange faced a London court via a video link on Thursday for the first hearing over the US extradition request. When asked if he desires to consent to it, he rejected it and expressed determination to fight the extradition.
I do not wish to surrender myself for extradition for doing journalism that has won many, many awards and protected many people.
The US wants Assange on charges of conspiring to commit computer intrusion, related to his work with whistleblower Chelsea Manning, who leaked scores of classified documents related to the Iraq War. The offense carries a maximum penalty of five years behind bars, but Assange's legal team fears more charges will follow.
Also on rt.com
'Shocking & vindictive': WikiLeaks slams UK prison sentence for Assange over skipped bail
Supporters of the WikiLeaks co-founder speculate that he might even face charges under the Espionage Act of 1917, a harsh legislation protecting "national interests," that envisions lengthy prison terms and ultimately the death penalty to those found guilty.
The hearings on the extradition request have been adjourned, with a technical one scheduled for May 30 and the first substantive one expected on June 12.
Also on rt.com
Assange extradition process is 'life & death' for him and for journalism itself – WikiLeaks' editor
Think your friends would be interested? Share this story!
You can share this story on social media: