WATCH Berlin police clash with Antifa activists during May Day demo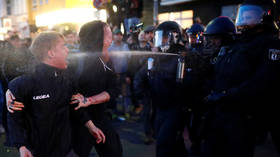 A number of protesters have been arrested in Berlin as Antifa activists clashed with security officers during the May Day rally in the German capital.
A substantial 'Revolutionary May Day demonstration' took place in Berlin, drawing around 5,000 participants by the end of Wednesday evening. The rally was closely watched by around 2,000 police, who scanned the crowd for troublemakers from Antifa, a left-wing anarchist movement.
Thread: Revolutionären 1. Mai #Berlin - ein erstes Fazit Wir bewerten die diesjährige Demonstration als einen wirklichen Erfolg. Es gelang, eine in den Vorjahren von Jahr zu Jahr an Ausdruck verlierende Demo wieder zu beleben. 1/ pic.twitter.com/pwRomaHgs7

— Lower Class Magazine (@LowerClassMag) May 1, 2019
As police helicopter circled in the air, officers were posted on rooftops to keep watch. While most of the rally proceeded in an orderly fashion, a number of hooded activists confronted the police in riot gear, throwing objects at officers and setting rubbish bins on fire. Many of the protesters seemed to be "under the influence," said Igor Zhdanov, RT correspondent on the ground.
Footage from the scene showed police clashing with demonstrators and dragging a number of them away. One officer was filmed by Ruptly punching a woman in the head. Police confirmed that a number of arrests were made but said their numbers will not be released until Thursday.
May Day rallies organized by trade unions and other leftist groups were held all across Germany, including Hamburg and Dresden. Unlike in Berlin, those rallies have passed without major incidents.
Like this story? Share it with a friend!