New Zealand media ban reporting of Christchurch shooter's white supremacist statements at trial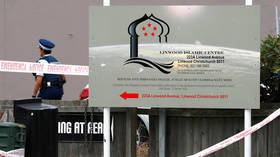 Five of New Zealand's biggest news organizations say they'll limit their reporting on the trial of the Christchurch mosque shooting suspect in an unprecedented step to curb the spread of white supremacy ideology.
Australian Brenton Tarrant is charged with the murder of 50, and attempted murder of 39, Muslim worshippers at two mosques in Christchurch, New Zealand, on March 15.
Also on rt.com
'Absolutely his intention': Christchurch gunman planned further attacks, had other firearms
The murder spree, apparently inspired by a blend of white supremacist and fascist ideologies, prompted New Zealand's Prime Minister Jacinda Ardern to issue a "global call" to fight the "ideology" of racism, particularly online.
Facebook came under particularly heavy criticism in the wake of the Christchurch attack, as the shooter had livestreamed the deadly spree on the social network. Sharing the footage is a crime in New Zealand.
READ MORE: Free speech debate in New Zealand after mosque slayer's manifesto banned
Now, the senior editors of the five major media organizations in New Zealand have voluntarily agreed to limit their reporting of Tarrant's beliefs in order to prevent the trial becoming a "platform to amplify white supremacist and/or terrorist views or ideology".
The guidelines limit any coverage of the gunman's white supremacist statements, including his manifesto and hand signals made by the accused or his "associates."
Tarrant, who is being held in isolation at New Zealand's only maximum security prison, is due to next appear in court on June 14. His official trial date has yet to be set.
Think your friends would be interested? Share this story!
You can share this story on social media: