US interference could lead to 'collapse' in Venezuela – Russian Foreign Ministry's spokeswoman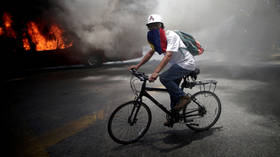 America's reckless push for a change of regime in Venezuela can only lead to further deterioration in the crisis-ridden state, Russia's Foreign Ministry spokeswoman has warned.
"If Washington would continue to push forward with its interference … into the internal affairs [of Venezuela] that might cause the whole situation to collapse," Maria Zakharova told journalists, amid an ongoing coup attempt in the Latin American country, staged by the US-backed opposition leader, Juan Guaido. She said that leaders in Washington don't see the "malignant nature of such an approach."
Earlier, the Venezuelan health authorities said that at least 59 people were injured as the protests initiated by Guaido on Tuesday descended into chaos, involving clashes between demonstrators and the Venezuelan security forces, as well as between rival groups of Venezuelan military personnel supporting the government or the opposition.
Also on rt.com
Caracas warns it'll use weapons if needed as crowds of coup supporters flock to presidential palace
Guaido called for decisive action against the Maduro government in a coup attempt that was immediately backed by Washington. Maduro said in response that the Venezuelan Armed Forces remain loyal to the constitution and his government. Venezuela's Defense Minister Vladimir Padrino Lopez also warned that the army would use force, if necessary.
Think your friends would be interested? Share this story!