Caracas warns it'll use weapons if needed as crowds of coup supporters flock to presidential palace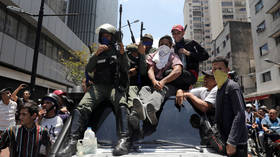 Venezuela's Defense Minister has warned that the army would resort to force if necessary, amid the ongoing US-backed coup attempt, as crowds of opposition supporters were filmed moving towards the presidential palace in Caracas.
"Anyone who comes to [the presidential palace of] Miraflores with violence will be defeated with violence. If we have to use weapons, we will use them," Minister Vladimir Padrino Lopez said in a televised national address, in an apparent warning to the crowds flocking to the palace.
The minister also said that he holds the opposition led by the US-backed self-proclaimed "interim president," Juan Guaido, responsible for "any death … on the streets" while accusing the opponents of the Venezuelan government of "seeking bloodshed."
Also on rt.com
Military vehicle runs over rioters in Caracas – TV footage
His statement came as crowds of protesters, accompanied by armed soldiers who sided with the opposition, were filmed moving to the western part of Caracas, where the presidential Miraflores palace is located.
Footage by the Venezuelan NTN24 TV channel showed the streets of the capital flooded with people. The video also showed a group of civilians and armed men in military uniform riding on the roof of a car.
Venezuelan law enforcement appears to be serious about using their weaponry, as shortly after the minister's warning, a shootout broke out in the vicinity of the country's Transport Ministry in Caracas. Footage from the scene shows several police officers exchanging fire with unseen adversaries, said to be a group of gunmen, who local channel NTN24 said shot at civilians from inside of the ministry.
Lopez said that the small group of military personnel who joined the coup had been "deceived." He also stated that "the vast majority" of the armed forces' members, who initially had sided with the opposition, eventually returned to their units' barracks and surrendered to their commanding officers.
While the pro-Guaido crowd was moving towards the presidential palace, supporters of President Nicolas Maduro had already gathered for a rally there, expressing their support for the government.
Meanwhile, a large group of bikers, apparently supporters of Maduro, was filmed amassing near the Miraflores palace.
Earlier on Tuesday, Guaido called for decisive action against the Maduro government in a coup attempt that was immediately backed by Washington. Maduro said in response that the Venezuelan Armed Forces remain loyal to the constitution and his government.
Also on rt.com
Venezuela's Maduro says military commanders have 'total loyalty' amid coup attempt
Think your friends would be interested? Share this story!
You can share this story on social media: