Fear in Sri Lanka Muslim communities after Easter bombings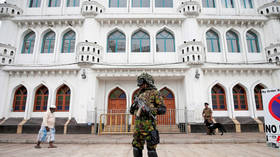 As police and military checkpoints choke Colombo's streets, an atmosphere of dread hangs over the city. In the wake of deadly bombings, suspicions have been cast on the country's Muslim community.
RT talked with members of Muslim communities in Colombo about the religious tensions they have encountered after the attacks, which left more than 250 dead.
"There is a lot of fear among the Singalese community and Sri Lankans around," Islamic scholar Sheikh Arkam Nooramith told RT. "They look at all the Muslims as terrorists."
Also on rt.com
Sri Lanka bans all face coverings, including Muslim veil, to facilitate terrorist identification
Lawmakers passed an emergency ban on face coverings on Monday which makes no exception to religious garb commonly worn by Muslims. Though the ban was justified on security grounds, some Muslims criticized the rule for interfering with their religious practice. There have been protests against Pakistani refugees in Negombo, a popular tourist destination.
Authorities suspect the recent bombings that received praise from Islamic State leader Abu Bakr al-Baghdadi were carried out by Islamic militants, and some Muslims in Sri Lanka feel their whole community is unfairly taking the blame.

"We may have to face many consequences because of their extremist terrorist behavior," said Sheikh M. Fazil Farook, spokesman for a leading group of Islamic clerics in Colombo. "They are not part of us – they are not Muslims."