Treating Pakistan as a friend would be India's 'biggest weakness' – Deputy FM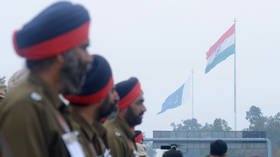 Pakistan, which has been India's arch-nemesis for decades, will never be treated as a friend in New Delhi, and it will be the "biggest weakness" to consider Islamabad as a friendly neighbor, its deputy foreign minister has said.
Vijay Kumar Singh, India's Minister of State for External Affairs, made the stern remark while in Jaipur, according to local media. He said he was aware of some opposition politicians calling to mend ties with Pakistan, but doubted that this will ever come true.
A country "which has been triggering proxy wars against India besides being a terrorist hub can never be treated as a friend," Singh said, reiterating a long-standing Indian claim that Pakistan is aiding and abetting militants in the contested Kashmir.
Treating Pakistan as a friend will be the biggest weakness of India.
Tensions between the two nuclear-armed rivals mounted on the back of a cross-border standoff earlier this year, when India responded with airstrikes to a high-profile terror attack it blamed on Pakistan-based Islamist group. Pakistan didn't sit idle as well, engaging Indian jets and shooting down a pilot who was later returned home.
Also on rt.com
Nuclear-armed India & Pakistan vowed missile strikes during Kashmir standoff – report
India and Pakistan have been at odds since the violent partition of British India back in 1947. The conflict is being fueled by deep sectarian tensions and territorial claims, most notably in Kashmir.
Think your friends would be interested? Share this story!
You can share this story on social media: