Disgust as trophy hunter boasts of killing rare large-tusked elephant in Zimbabwe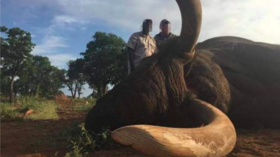 Trophy hunters have boasted about killing a rare large-tusked elephant in a national park in Zimbabwe, reportedly the second time the hunter has killed one of the rare elephants.
The massive elephant bull was killed by trophy hunters in Gonarezhou National Park, Zimbabwe.
The news was announced on JWK Safaris Facebook page in a now-deleted post, which said the elephant was killed on a hunt "guided by PH Nixon Dzingai," Africa Geographic reports, and the hunter is named as Grant Taylor.
Also on rt.com
Hunting kids of Instagram: Outrage over children posing with their kills
"This is an exceptional Gonarezhou trophy bull with long, thick and symmetrical tusks that are typical of the Gonarezhou and Kruger gene," JWK Safaris wrote, adding that the tusks hadn't been weighed yet.
This follows the killing of the largest elephant hunted in Africa in over 30 years, reportedly by the same professional hunter in 2015. The elephant's tusks weighed 122-pounds each. Photographs on JWK Safaris' website match those shared in media reports of the 2015 kill.
Also on rt.com
'Find this b***h': Photo of dead leopard sparks outrage against big game hunter
The hunters claimed that had been an ethical kill because the elephant was past his breeding years, but experts said the elephant was only 35-40 years old, which is prime breeding age, Africa Geographic reported.
JWK Safaris targets elephants as they roam between national parks and other land.

News of the killing provoked an angry reaction from animal lovers on social media with many calling for trophy hunting to be outlawed.
Another giant #elephant taken by hunters.💢🐘Cold-blooded killing of Africa's remaining large-tusked #elephants continues; 'proud' announcement by #trophyhunting JWK Safaris that client of theirs had killed one in Gonarezhou Nat Pk, Zimbabwe https://t.co/AtXYN3BxsQ via @africageo

— *Mina*Bad Yoga KittyⓋ (@MinaANDMaya) April 26, 2019
Trophy hunter 'slaughters second rare large-tusked elephant' - A trophy hunter has reportedly shot dead a rare large-tusked elephant in Zimbabwe, 4 years after killing the largest elephant hunted in Africa in three decades :( #bantrophyhuntinghttps://t.co/zaMVbye8qO

— Campaign to Ban Trophy Hunting (@CBTHunting) April 26, 2019
We need to start hunting trophy hunters 😡

— John (@Upthedubs8) April 26, 2019
Disgusting

— Jason Gargiulo (@jasongargiulo) April 26, 2019
So frustrating just reading this and being unable to help these beautiful animals, I detest these revolting trophy idiots... that's the most polite I can be.

— billy (@billyboyb69) April 26, 2019
Like this story? Share it with a friend!
You can share this story on social media: