Massive fire engulfs fridge factory at ballistic missile plant in Siberia (VIDEO)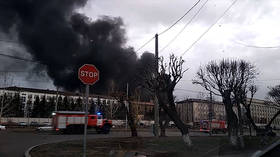 Plumes of thick black smoke rose hundreds of meters into the air as a huge fire broke out at the Krasnoyarsk plant, which makes Sarmat and Sineva ballistic missiles for the Russian military.
Despite the apocalyptic pictures from the site, the Krasmash administration made assurances that the blaze was no threat to missile production facilities. The plant's employees, together with emergency workers, made sure the premises were secure, it said.
The fire occurred at a refrigerator-making factory, which is also located on the premises. A roof of a warehouse that stores ice-boxes, before they are shipped to customers, collapsed. There were reportedly 5,000 refrigerators inside.
The blaze covered about 5,000 square meters, and the incident was given the highest-difficulty rating by emergency responders. 64 firefighters and 16 fire trucks were involved.
Krasmash produces Sineva ballistic missiles and the upcoming Sarmat superheavy extended-range ICBM, which was announced by President Putin last year as part of a range of new Russian state-of-the art weapons.
The Krasnoyarsk plant also made headlines when it manufactured ceremonial torches for the 2014 Winter Olympics in Sochi.
Like this story? Share it with a friend!
You can share this story on social media: