Lara Trump calls migrants 'the downfall of Germany,' gets blasted for forgetting history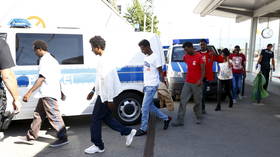 President Donald Trump's daughter-in-law Lara Trump stated that German Chancellor Angela Merkel's decision to allow millions of migrants into the country was "one of the worst things that ever happened to Germany."
Speaking to Fox News' Stuart Varney on Thursday, Trump compared the influx of illegal immigrants across the US' Mexican border to the surge of Middle Eastern and African migrants into Germany in 2015.
"It was the downfall of Germany," Trump told Varney. "It was one of the worst things that ever happened to Germany."
Trump was immediately roasted on Twitter. Commenters pointed out that some pretty bad things also happened in Germany during the 1930s and '40s, while the country was under an altogether different kind of leadership.
Lara Trump's father-in-law has made similar comments about Merkel's 'open door' policy before, calling it "insane" in the runup to the 2016 election.
Germany accepted more than a million migrants in 2015, and received several hundred thousand asylum applications per year in the years since. Although Merkel has stood by her decision, the German government has recently increased deportations and restricted the asylum process.
Also on rt.com
'They're godfathers now' – Germany's most famous bodyguard on powerful Arab street gangs
The increase in crime – particularly violent crime – that followed the new arrivals opened Merkel up to a backlash at home as well, and saw the right-wing Alternative for Germany party become the third-largest in the country's parliament in the 2017 federal elections.
Like this story? Share it with a friend!
You can share this story on social media: