Israel run by Netanyahu's 'rightwing racist government', Bernie Sanders says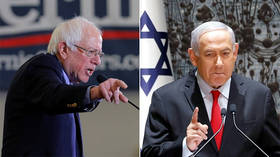 Democratic 2020 hopeful Bernie Sanders called the government of Israeli PM Benjamin Netanyahu "racist" during a CNN town hall. Another blue candidate, Beto O'Rourke, used similar wording to blast the Israeli leader.
Speaking on Monday, the popular Vermont senator was asked to comment on how his long-standing criticism of Netanyahu – who this month won a highly contested election and secured his fifth term as prime minister – was compatible with supporting Israel.
"I am not anti-Israel but the fact of the matter is that Netanyahu is a right-wing politician who, I think, is treating the Palestinian people extremely unfairly," Sanders said as the audience burst in applause.
"So what I believe is the United States gives billions of dollars in military aid to Israel. What I believe is not radical. I just believe that the United States should deal with the Middle East on a level playing field basis. In other words, the goal must be to try to bring people together and not just support one country, which is now run by a right-wing, dare I say, racist government," he added.
Prior to the election in Israel, Sanders said he hoped Netanyahu would lose. "When election time comes in Israel, he always tries going even further to the right by appealing to racism within Israel, I think it's unfortunate," he said at the time. The remark was in response to Netanyahu's pledge to annex the illegal Jewish settlements in occupied Palestinian lands to Israel after being reelected.
Another Democratic hopeful, Beto O'Rourke, leveled similar criticism at the Israeli prime minister on the campaign trail in Iowa. The former Texas representative said the US-Israeli relationship "must transcend partisanship in the United States, and it must be able to transcend a prime minister who is racist as he warns about Arabs coming to the polls, who wants to defy any prospect for peace as he threatens to annex the West Bank and who has sided with a far-right racist party in order to maintain his hold on power."
Other Democratic candidates who have directly criticized Netanyahu in recent months include Elizabeth Warren and Amy Klobuchar.
First embracing right-wing extremism. Now manipulating a free press, accepting bribes, and trading government favors. The allegations against Prime Minister Netanyahu are serious and cut to the heart of a functioning democracy. https://t.co/2oog96eirN

— Elizabeth Warren (@ewarren) February 28, 2019
This is wrong and has been rightly condemned. To quote the American Jewish Committee, "[The views of Otzma Yehudit] do not reflect the core values that are the very foundation of the State of Israel."https://t.co/r0VMI3FicH

— Amy Klobuchar (@amyklobuchar) February 26, 2019
If you like this story, share it with a friend!
You can share this story on social media: