Van detonates near Colombo church as bomb squad reportedly tries to defuse it (VIDEOS)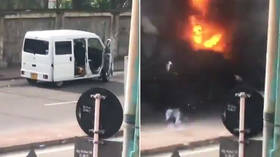 A bomb went off near a church in Sri Lanka as it was being defused, a witness has claimed. But local media say that it was a controlled explosion by police, following the horrific attacks that killed 290 people.
A van apparently blew up when a police unit tried to defuse the explosives after cordoning off the area.
Local media, however, reported that it was a controlled explosion near St. Anthony's Catholic Church in Colombo, and that the police cordoned off the area before detonating the device. Local reports suggested that there were no casualties.
Footage from the scene shows a white van parked in the middle of the road, before suddenly exploding.
In another video, officers in fatigues are creating a barrier around the van. A bomb-disposal unit, firefighters and news crews are also present. The van is later seen engulfed in flames, with no signs of casualties around it.
St. Anthony's church is one of the three Christian places of worship attacked during a series of coordinated bombings on Easter Sunday. Four hotels and an apartment complex were also targeted that day. Another bomb was later discovered near the Colombo International Airport and defused.
Overall, 290 people were killed during the attacks, and hundreds more were injured.
Also on rt.com
Sri Lankan police find 87 bomb detonators at Colombo's main bus station – spokesperson
A total of 24 people were subsequently arrested in connection with the bombings, but so far no group has claimed responsibility. Some government officials said that the perpetrators were local Islamist extremists, aided by an "international network."
Think your friends would be interested? Share this story!