Replace Pompeo with someone 'more cautious & mature' if you want to talk, N. Korea tells US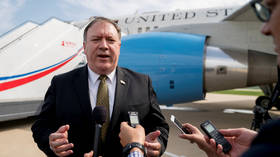 North Korea signaled that it would like to see US Secretary of State Mike Pompeo replaced by someone more careful and "mature" in talks with Pyongyang. If he engages in nuclear talks again, the "table will be lousy," it warned.
Secretary of State Pompeo should step aside from the nuclear talks with Pyongyang in favor of someone "who can communicate more cautiously and more maturely," according to Pyongyang's state-run KCNA outlet, cited by a number of agencies.
The North Korean media also quoted Kwon Jong Gun, a top Foreign Ministry official, who cautioned that "if Pompeo engages in the talks again, the table will be lousy once again and the talks will become entangled."
Pompeo is believed to have laid some groundwork for the historic first summit between Trump and Kim in Singapore last year, meeting the North Korean leader in Pyongyang several weeks prior.
The latest gathering between the US leader and Kim (in Hanoi, Vietnam) was also poised to become a diplomatic breakthrough but essentially collapsed, with Trump saying "they [N. Korea] wanted the sanctions lifted in their entirety and we couldn't do that."
For the last two months, the negotiations have stalled although both sides traded fairly positive comments about the future of the nuclear talks. However, on Wednesday, North Korea seemed to break its moratorium on missile tests, launching what it said was a new "tactical guided weapon."
Without providing details, state media reported that the projectile had a "peculiar mode of guiding flight" carrying a "powerful warhead."
Also this month, Kim broke the silence on the nuclear talks, accusing the US of escalating hostility "despite its suggestion for settling the issue through dialogue." He called the US sanctions and pressure as "foolish and dangerous an act as trying to put out fire with oil."
Think your friends would be interested? Share this story!
You can share this story on social media: