Sri Lankan officials 'caught off guard' by Easter Sunday attacks — analyst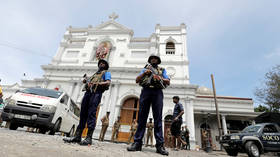 While it's early to draw conclusions, it seems clear that Sri Lankan authorities were unprepared for a series of deadly terrorist attacks, political and geo-strategic expert Javed Rana told RT.
The officials were completely "caught off guard" by the well-planned and coordinated attacks on Sunday morning, the Pakistani-based analyst told RT, because it was "something they didn't expect after 2009 when the Tamil Tigers insurgency was over."
The Sri Lankan government was in a comfortable zone thinking that the terrorism was all over.
Three packed Catholic churches were targeted by explosions, and three luxury hotels were also hit. Later, two additional blasts struck near the nation's largest city, Colombo. More than 150 people died in the attacks, and hundreds were injured, police said.
No one has yet claimed the responsibility for the blasts but "the pattern suggests Islamic State (IS, formerly ISIS)," Rana said, adding that Tamil insurgency group, the LTTE, can't be ruled out either, since "their grievances are still there."
Also on rt.com
Blood & chaos: WATCH worshippers struggle to aid wounded after Sri Lanka church bombing
Even if Islamic State claims responsibility for the explosions, the government should conduct a thorough investigation and examine all local factors, he stated.
Once an active perpetrator of suicide bombings, the LTTE was officially defeated 10 years ago, and Sri Lanka has not experienced large-scale terrorist acts since then.
Javed Rana said that Sunday's attacks were clearly intended "to cause maximum panic" and "send a message to the world that foreigners inside Sri Lanka aren't safe."
Think your friends would be interested? Share this story!