Beware of the bomber biker! Indian intelligence warns of possible suicide attacks during elections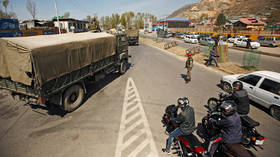 Indian intelligence agencies have reportedly raised the alarm level in Jammu and Kashmir warning that suicide bombers could use motorcycles to stage attacks in the Indian state during the ongoing general election.
"The fidayeen [suicide] attackers could be riding a motorcycle with explosive-filled bags fitted on both sides," intelligence agencies reportedly warned regional authorities, according to local media. "The two-wheeler could prove to be more maneuverable and easier to reach any target."
Also on rt.com
India halts Pakistani cross-border trade in Jammu and Kashmir as conflict escalates
The terrorists could seek to strike campaign events and polling stations as millions take part in India's complicated election process, which started last week and will end on May 19.
Security forces in India's troubled border state with Pakistan are instructed to "keep extra vigil and alertness" for possible strikes by the Pakistan-based Islamist militant group Jaish-e-Mohammed (JeM), members of which, intelligence agencies believe, are holed up in North Kashmir in large numbers.
Also on rt.com
Indian forces seize weapons cache full of Chinese ammo in Kashmir – report
Earlier, Indian forces reportedly discovered a stockpile of weapons and ammunition with Chinese markings in Kashmir, which has remained extraordinarily tense ever since the February 14 Pulwama suicide bombing in which 40 Indian paramilitary police were killed.
Like this story? Share it with a friend!
You can share this story on social media: