YouTube's 'conspiracy filter' tags Notre Dame fire videos with 9/11 info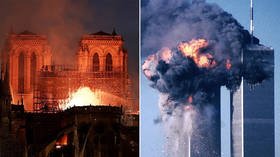 YouTube's "conspiracy filter" algorithm accidentally tagged livestreams of the Notre Dame Cathedral fire with an "info box" displaying a blurb about the 9/11 attacks, proving its AI isn't very intelligent after all.
France24 and other agencies running livestreams of the blaze found YouTube had placed the offending conspiracy disclaimer below their videos, featuring a brief summary of the "official version" of the events of September 11, 2001 taken from the Encyclopedia Britannica. Unfortunately, the information was about two decades – and an entire continent – off the mark.
"We are deeply saddened by the ongoing fire at the Notre-Dame cathedral," a YouTube spokesman said about the gaffe. "These panels are triggered algorithmically and our systems sometimes make the wrong call. We are disabling these panels for live streams related to the fire."
Also on rt.com
Huge blaze devastates Notre Dame Cathedral in Paris: How it unfolded
YouTube claims to show "tens of millions" of anti-conspiracy text boxes to viewers every week, pulling text from sources reputable (Britannica) and not-so-reputable (Wikipedia) in an effort to debunk so-called conspiracy theories. The platform stepped up efforts to "reduce recommendations of borderline content and content that could misinform users in harmful ways" (such as "making blatantly false claims about historic events like 9/11") earlier this year, but claimed the measure would apply to less than one percent of all YouTube videos.
As some astute Twitter users pointed out, the feature designed to squelch conspiracy theories was actually promoting them by suggesting there was a link between the events of 9/11 and the cathedral fire.
Indeed, some were already starting to take the platform's implied suggestion and run with it.
Others excused YouTube's sloppiness, pointing out that in both cases, large buildings were on fire and the Notre Dame Cathedral's iconic towers were at risk of collapse.
Think your friends would be interested? Share this story!
You can share this story on social media: