Taylor Swift's Israeli mega-fan turns to Twitter to shed light on Israeli-Palestinian conflict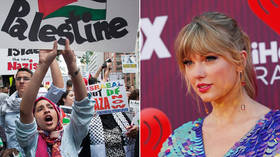 An over-the-top fan of Taylor Swift is using her rising Twitter fame to spread word on the Israeli occupation of Palestine, raise funds for Palestinians and tell followers how she went to jail for refusing to join the IDF.
A Twitter account called Taylor Swift Updates stands out among other typical fan pages. Run by a 19-year-old Israeli woman, who goes by the name Na'ama, it unsurprisingly features plenty of tweets, news updates and posts dedicated to her beloved American singer.
But it went viral this year because of one particular thing – her overwhelming support for Palestine and her fierce opposition towards mandatory military service.
READ MORE: Israeli teens tell Netanyahu they won't serve in IDF, slam occupation of Palestine
So far, her 20,000-strong readership pales in comparison to that of Taylor Swift who has over 83 million followers on Twitter and around 115 million on Instagram. But Na'ama says she wants to use her emerging Twitter fame to raise awareness about the Israeli-Palestinian conflict.
"I'm also aware I just received the awesome opportunity to educate, so if any pro-Palestine [journalists] see this, reply below and I'll try and get back to you!" she tweeted.
In February, she told her followers that she will go offline because she is poised to serve a prison sentence in Israel. In another tweet, the woman confessed she didn't know how long she would be in jail. "Some people do 10 days, other well over a year," she said. "I'll have a pretty short notice of when I'm getting released."
A few weeks later, the account shared a handwritten update from prison. At the time, debunking rumors about Taylor Swift's pregnancy seemed to occupy Na'ama's mind, even behind bars.
Tweeting activity resumed in early April, when she wrote: "As most of you know, I haven't been very active in the past couple of months because I was in prison."
In Israel, military service is compulsory for both men and women over the age of 18. There are a few exemptions for mandatory service, such as marriage, pregnancy, as well as religious reasons or pacifism – but objectors must defend their views in front of a military panel.
Also on rt.com
'I like her music 25% less now': Trump on Taylor Swift backing Democrats
Sometimes, those who dodge the draft – called 'refuseniks' in Israel – do so out of opposition to Israel's occupation of Palestine, which is apparently the case in Na'ama's story.
Meanwhile, in her latest tweet she urged followers to raise funds for Palestinian children, while at the same time bickering with true Israeli patriots who she slammed for their ignorance.
Like this story? Share it with a friend!