Samsung's $2,000 foldable phone falls apart in DAYS, reviewers complain (PHOTOS, VIDEOS)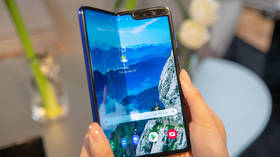 The Samsung Galaxy Fold smartphone is making headlines for all the wrong reasons, with multiple tech journalists reporting problems with the high-end device's foldable screen. The company acknowledged receiving "a few" complaints.
Several journalists given Galaxy Fold units have reported serious problems with the phone, just two days after the hotly-anticipated device was distributed to reviewers. The revolutionary design – the first production model of a foldable smartphone – comes with a price tag approaching $2,000, and a lot is resting on its April 26 launch in the US.
At least two of the reviewers said their phones become unusable in just days due to issues with their screens that appeared for no particular reason. Two others admitted they mistakenly removed a clear plastic 'screen protector,' thinking it was discardable packaging, only to learn it was not supposed to be removed after their screens went black or began flickering, and Samsung has replaced their phones.
Samsung acknowledged the issue and intends to "thoroughly inspect [the review] units in person," the company said in a statement on Wednesday, and has warned users against removing the transparent protective layer on the screen.
Before the Fold was shipped to reviewers, Samsung boasted the device could "outlast 200,000 folds and unfolds." The company has not delayed the phone's release date and it is being rolled out in the US before anywhere else.
The Galaxy Fold wouldn't be the first Samsung smartphone to go down in flames. The Galaxy Note 7 was infamously recalled after multiple units burst into flames, resulting in customer injuries, lawsuits, and property damage.
If you like this story, share it with a friend!