Putin offers to send Russia's 'best experts' to help restore Notre Dame Cathedral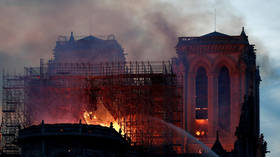 Russian President Vladimir Putin has extended his condolences to France and its leader as well as an offer of help in rebuilding the fire-ravaged Notre Dame Cathedral.
In a message to Emmanuel Macron published on the Kremlin's official website, Putin says he hopes the historic cathedral can be repaired after the fire destroyed part of its roof, clock and spire. He also offered to send "the best Russian experts with experience in restoring monuments of cultural heritage" to help.
Also on rt.com
Notre Dame suffers 'colossal' damage as firefighters avert 'worst case scenario' (INTERIOR PHOTOS)
"The Notre Dame is a historical symbol of France, a priceless treasure of European and world culture, one of the most important Christian relics. The tragedy that happened last night in Paris, resounded with pain in Russians' hearts," the message says.
It took more than 400 firefighters to tackle the blaze that is believed to have started in the scaffolding, erected to perform repairs in the 850-year-old Gothic cathedral. The exact cause of the fire is under investigation.
Despite the extensive damage, the walls of Notre Dame, as well as many of the priceless religious relics inside, remain intact, but two police officers and one firefighter was injured while putting out the towering blaze.
Also on rt.com
Towering inferno at Notre Dame Cathedral captured by police drone
Macron has said restoring Notre Dame is "undoubtedly part of the French destiny and the project we'll have for the coming years." Various donors have already pledged over $300 million for the reconstruction.
If you like this story, share it with a friend!