'Pompeo lost his mind': Chinese diplomat hits back at US attacks on Beijing's investments in Chile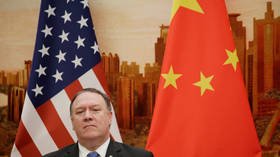 The Chinese ambassador to Santiago called US Secretary of State Mike Pompeo "a hypocrite" after he tried to dissuade the South American nation from dealing with Beijing, as the US and China remain locked in a trade war.
"Pompeo has lost his mind and gone too far," Beijing's envoy to Chile, Xu Bu, said, slamming the attacks against Chinese economic activities in the region as "malicious" and "absurd."
Mike Pompeo earlier called Chinese investment projects in the South America "debt deal traps" during a visit to Santiago. Beijing "often injects corrosive capital into the economic bloodstream, giving life to corruption, and eroding good governance," he said.
Also on rt.com
Belgian cybersecurity center finds no evidence of Huawei spying threat, despite US claims
Firing back, Ambassador Xu said that economic ties between Chile and China "brought tangible benefits to the development of the Chilean economy," and the cooperation remains mutually beneficial. He pointed out that Chile's trade with Beijing exceeded US$42.8 billion, which is nearly twice the size of the trade it has with Washington (US$24 billion).
"Mr. Pompeo is a hypocrite," he said, adding that it is the US that "has not made substantial contributions" to the economy of South American states.
Historically, the United States has treated Latin America as its 'backyard,' imposing frequent military interventions or sanctions.
The US and China have been locked in a trade war since President Donald Trump slapped import tariffs on Chinese goods. In retaliation, Beijing did the same with a number of US-made products.
Relations between the two nations were further strained as senior US officials accused Beijing of potentially using telecom giant Huawei to spy on Western states and ordinary citizens. Mike Pompeo has attempted to discourage American allies in Europe from using Huawei equipment, warning that reliance on Chinese technology will hamper their cooperation with Washington.
The company denied the allegations. Meanwhile, Belgium's Center for Cybersecurity investigated Huawei and found no evidence that its equipment presents "a spying threat."
Think your friends would be interested? Share this story!
You can share this story on social media: