Notre Dame blaze tragedy for all Christians – Russian Orthodox Church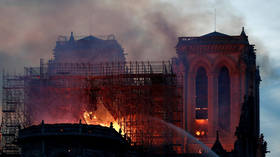 The massive fire that had erupted at the iconic Notre Dame Cathedral in Paris is a great tragedy for all Christians and those who value the cultural meaning of the ancient building, the Russian Orthodox Church has said.
The fire erupted at the one of the most well-known Paris landmarks late on Monday. It quickly engulfed the building, causing its spire and most of the roof to completely collapse. The fire is still raging, yet the firefighters express hopes the main structure of the cathedral will remain standing.
The blaze at the cathedral has caused a "great sorrow" within the Orthodox Church, said hieromonk Stephan, spokesman of the Moscow Patriarchate.
"It's certainly a tragedy for all the Christians and everyone who values the cultural meaning of the cathedral," the hieromonk told Sputnik. "Yet besides the cultural value, we must remember that the Crown of Thorns, the greatest relic for all the Christians, is kept there. We pray that it will stay safe and that God won't allow human deaths amid this terrible event."
Also on rt.com
Notre Dame towers 'saved' from the blaze, French firefighters hope
Think your friends would be interested? Share this story!
You can share this story on social media: