'Part of us is burning': Macron tweets as iconic Notre Dame Cathedral is on fire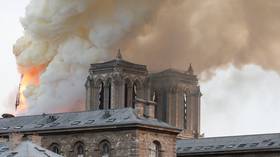 French President Emmanuel Macron has extended his sympathies to all Catholics and all citizens of France as "part of us burns," referring to the iconic Notre Dame Cathedral (Cathédrale Notre-Dame de Paris) in central Paris.
"Our Lady of Paris is in flames," the president tweeted on Monday evening, as the church's spire and roof collapsed. "My thoughts are with all the Catholics and all the French. Like all our compatriots, I am sad tonight to see this part of us burn."
Notre-Dame de Paris en proie aux flammes. Émotion de toute une nation. Pensée pour tous les catholiques et pour tous les Français. Comme tous nos compatriotes, je suis triste ce soir de voir brûler cette part de nous.

— Emmanuel Macron (@EmmanuelMacron) April 15, 2019
Built starting in the 12th century, the Gothic architecture jewel was undergoing repairs. The scaffolding around the roof and the spire of the church caught fire on Monday, and firefighters have struggled to contain the blaze.
The cause of the fire remains unknown.
Think your friends would be interested? Share this story!