Russia hopes Assange's rights will be respected beyond arrest – Kremlin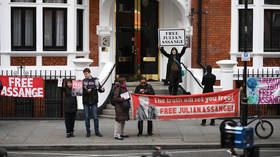 WikiLeaks founder Julian Assange, who was earlier evicted from the Ecuadorian Embassy and arrested by British police, should be treated properly, a Kremlin spokesman has said.
"Undoubtedly, we hope that all his rights will be respected," Dmitry Peskov told journalists when asked if Russia could grant asylum to Julian Assange. Earlier in the day, the WikiLeaks founder was dragged out of the Ecuadorian Embassy in London and arrested by Met Police.
READ MORE: Julian Assange arrested after Ecuador tears up asylum deal
Simultaneously, Ecuadorian President Lenin Moreno proclaimed that he had withdrawn political asylum for Assange, citing alleged violation of international norms and misconduct at the embassy. He said the UK should ensure that he is not extradited to a country where he may face inhumane treatment or capital punishment.
Some observers, however, said the carefully worded statement by Moreno does not rule out Assange being extradited to the US.
This is carefully phrased: Ecuador sought and received guarantees Assange wouldn't be extradited where he could face "torture or the death penalty".That doesn't rule out US extradition – it just means the US would have to rule out the death penalty. https://t.co/nu1z1xdP8H

— James Ball (@jamesrbuk) April 11, 2019
That's an easy guarantee for the UK to give, as it's essentially impossible for an EU country to extradite someone to face the death penalty under existing human rights law anyway.

— James Ball (@jamesrbuk) April 11, 2019
Meanwhile, WikiLeaks itself blamed "powerful actors," such as the CIA, for running a "sophisticated" campaign to scapegoat Assange.
This man is a son, a father, a brother. He has won dozens of journalism awards. He's been nominated for the Nobel Peace Prize every year since 2010. Powerful actors, including CIA, are engaged in a sophisticated effort to dehumanise, delegitimize and imprison him. #ProtectJulianpic.twitter.com/dVBf1EcMa5

— WikiLeaks (@wikileaks) April 11, 2019
UK authorities welcomed the news. Assange was "no hero and no one is above the law. He has hidden from the truth for years," Foreign Secretary Jeremy Hunt has tweeted.
Meanwhile, former Ecuadorian president Rafael Correa (who granted asylum to Assange) labeled Moreno a 'traitor' following the arrest.
Subscribe to RT newsletter to get stories the mainstream media won't tell you.