Netanyahu wins record 5th term as Israel's PM as Gantz concedes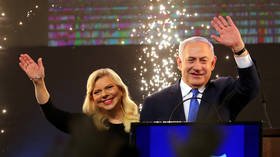 Israeli Prime Minister Benjamin Netanyahu has won a historic fifth term in office, fending off a tough challenge from opposition leader Benny Gantz, with support from right-wing parties. Gantz conceded on Wednesday.
Netanyahu's Likud party tied with Gantz's centrist Blue and White Alliance, gaining 35 seats each, but right-wing parties led the way with 66-55 seats — and nearly all of them said they would recommend Netanyahu to President Reuven Rivlin to form the next coalition government.
"We didn't win in this round. We will make Likud's life hell in the opposition," said Yair Lapid, who was number 2 on the Blue and White Alliance ticket, during a televised statement.
Both Netanyahu and Gantz declared victory in the tightly contested election on Tuesday, with both camps claiming their win was "clear" — but the right-wing bloc managed to achieve the minimum 60 seats required to form a coalition in the Knesset, the 120-seat Israeli parliament.
Also on rt.com
Personality contest or ideological struggle? Analysts dissect Israeli election
Netanyahu's victory comes as he is facing multiple corruption probes and after an election campaign which analysts told RT was focused less on policy issues and more on personality, with many Israelis feeling his 10-year tenure as PM was long enough and that it was time for change and a new face.
"The biggest issue is Netanyahu himself: whether Israelis are tired of Netanyahu, whether they're put off by the stench of corruption that surrounds him, whether they want a change, or whether they prefer to stick with a safe pair of hands and a statesman that obviously enjoys good relations with many world leaders," Northeastern University Professor Dov Waxman told RT. "There's actually been very little debate – a striking lack of debate – over Israeli policies."
Netanyahu embraced and courted support from some of Israel's most extremist right-wing voices during the campaign, including one group known as the Jewish Power Party which aims to form a theocracy in Israel.
Speaking on Tuesday evening, before all votes had been counted, Netanyahu said his party had enjoyed a night of "tremendous victory" and confirmed he had already begun talks with the leaders of other right-wing parties, who he said were Likud's "natural partners."
This coalition will include the extremist Jewish Power Party (Otzma Yehudit) whose ideological founder, Rabbi Meir Kahane, was a terrorist and anti-Arab racist. Netanyahu made a Faustian bargains to keep power, but at what cost? https://t.co/pVdHzvvNRP

— Wajahat Ali (@WajahatAli) April 10, 2019
Responding to the results, US President Donald Trump told reporters on Wednesday that Netanyahu's victory was a good sign for "peace" in the region.
Trump was accused in recent weeks and months of trying to bolster Netanyahu ahead of the election by taking provocative pro-Israel stances on a number of highly contentious issues, including recognizing Israel's "sovereignty" over the Syrian Golan Heights and designating Iran's Revolutionary Guards as a "terrorist organization" on the eve of the election. Trump also caused controversy last year when he recognized divided Jerusalem as Israel's capital and moved the US Embassy there from Tel Aviv — a move which many Palestinians and activists felt made any of Trump's "peace" efforts in the region dead on arrival.
Pollsters on Tuesday said that Arab turnout in the election was dramatically reduced and was potentially at a historic low. It wasn't clear exactly what contributed to such low turnout, but some speculated it could be a feeling that their votes "didn't matter."
Like this story? Share it with a friend!
You can share this story on social media: