Alleged Russian hacker Nikulin's rights were violated by forced extradition to US – Czech court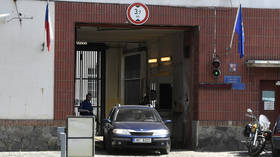 A former Czech justice minister violated the rights of Russian national Yevgeny Nikulin by ordering his extradition to the US on hacking charges, the country's constitutional court ruled Tuesday.
Following an appeal from the accused, judges in the Czech court overturned Justice Minister Robert Pelikan's decision last year which led to Nikulin's extradition to the United States. According to the court's spokeswoman Miroslava Sedlackova, the decision had "violated Mr Nikulin's legal right to judicial protection."
Nikulin was arrested in Prague in 2016 after the FBI accused him of targeting three Bay Area companies with cyber-attacks in 2012, including social media site LinkedIn and file host Dropbox, charges which could net him 30 years in prison. Nikulin has consistently maintained his innocence. The hack was allegedly one of the largest data breaches in US history, with some 117 million login codes being stolen.
Also on rt.com
Mother of detained Russian 'hacker' begs Czech president to prevent his extradition to US
The Russian national was also wanted in his native country on lesser charges, and repeatedly requested extradition home instead of the US. Nonetheless, a Czech court ruled in 2017 that he was fair game to be sent to either of the countries where he was wanted.
At that point, Nikulin's fate was in the hands of Justice Minister Pelikan, who eventually decided to hand him over to the Americans against his will, a decision opposed by Czech President Milos Zeman and condemned by Russia's foreign ministry.
If you like this story, share it with a friend!
You can share this story on social media: