'Human factor': Ex-cyber fraudster tells RT that cops don't get what makes cybercriminals tick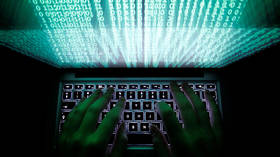 During his life as a cybercriminal, Brett Johnson used anonymity and people's complacency to become the 'Original Internet Godfather' of fraud. As poacher-turned-gamekeeper, he spoke to RT's SophieCo about his experiences.
"Cybercriminals know that the most important part of breaking the law and getting money is the human being," Johnson says of why phishing, or the act to fraudulently gain access to people's online personal data, has become so popular. With 92 percent of every data breach beginning with a phishing attack, this form of "social engineering" is by far the easiest way for criminals to gain access to an individual or companies' sensitive information.

Also on rt.com
Canada calls for social media crackdown over fears of 'foreign cyber interference' in elections
Part of the problem, according to Johnson, is that "people tend to trust technology inherently," adding this is made more dangerous by the ever-evolving capabilities and ways of accessing the web day-to-day. However, with that comes a "separation" that cyber criminals thrive on, as it allows them "to be anonymous and also not have to face the people" they are ripping off. For Johnson, this feeling of the "unreal" is experienced not only by the criminals committing the crimes, but by the individuals and companies who fall victim.

You don't have to look your victim in the face, and the victim doesn't see the criminal's face either. So it's that separation that takes place.

Johnson notes that while improved training and better reporting of phishing attacks can help limit the damage, a major obstacle in preventing the spread of cybercrime lies in law enforcement's inability to fully grasp what truly drives cybercriminals.
"The thing is that for a criminal, law enforcement security people really don't understand that criminal mindset, they don't understand the lengths that even I would go to break the law."
Watch the full interview here
Subscribe to RT newsletter to get stories the mainstream media won't tell you.