Israel deciding whether Netanyahu will remain in power in heated national election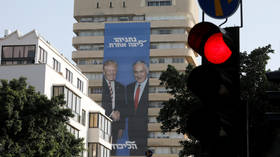 Polls are open in what promises to be a high-stakes election for Israel, with 13-year incumbent PM Benjamin Netanyahu on track to become its longest-serving leader – if he's not toppled by the new Blue & White party's Benny Gantz.
Netanyahu, currently facing down an indictment on bribery and fraud charges, has promised to annex Israeli settlements in the occupied West Bank, a move long sought by the far-right parties he has courted in the run-up to the election. The Likud party leader has also touted the move of the US embassy to Jerusalem and the US' declaration of Israeli sovereignty over the Golan Heights as proof of his statesmanship.
Also on rt.com
'Major miscalculation' in Netanyahu's support: Where can declaring IRGC terrorists push Middle East?
Gantz, a former IDF commander, has argued against unilateral moves and called Netanyahu's election-eve promise of the West Bank on a platter "irresponsible." Gantz formed the Blue & White in February, in alliance with former finance minister Yair Lapid and former IDF commanders Gabi Ashkenazi and Moshe Ya'alon.
The latest opinion polls show Likud and Blue & White winning about 30 seats each in the Knesset, meaning each would have to form a coalition in order to govern. While the Blue & White reportedly has a narrow lead, Netanyahu's party is better positioned to form a governing bloc, the PM having made a point of cozying up to parties even further right than his own in recent months.
Unlike his English tweet simply saying thanks, Netanyahu reveals in Hebrew that Trump agreed to designate Iran's IRGC as a terrorist organization "as another important request of mine".In other words, Trump gets dangerous policy directives from Netanyahu https://t.co/iLxfwML0f8pic.twitter.com/lppZ2W2Wo6

— Dan Cohen (@dancohen3000) April 8, 2019
Netanyahu has also campaigned on his relationship with US President Donald Trump, appearing to take credit the day before elections for Trump's seemingly unprovoked decision to declare Iran's Islamic Revolutionary Guard Corps a foreign terrorist organization. Gantz has hinted he believes Trump is meddling in Israel's election.
Like this story? Share it with a friend!