New Zealand defense official charged in bathroom spycam case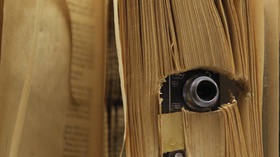 New Zealand's former top diplomatic official in the US has appeared in court to face charges that he attempted to film his fellow embassy staff doing their bathroom business with a hidden camera secreted in the lavatory wall.
Former Navy commodore Alfred Keating has pleaded not guilty to the charges – 'attempting to make an intimate visual recording of another person' – in Auckland District Court, where the trial's opening remarks were presented Monday. Keating was the highest-ranking New Zealand official working at the Washington DC embassy at the time the toilet-cam literally fell out of its hiding place in 2017, but resigned soon after the accusations went public last year.
Also on rt.com
Hundreds of women secretly filmed undressing for treatment at San Diego hospital
"This was not an act of espionage," New Zealand Crown Prosecutor Henry Steele told the jury, walking them through the events of that fateful day in late July 2017 when a man – arguably Keating – placed the tiny camera in a heating duct. Steele said Keating was attempting to record embassy staff as they used the facility's unisex bathroom, and was only foiled when the camera and its homemade mount fell out of place – to be discovered by another embassy employee.
A search of the camera by New Zealand police found over 20 files – including 19 of people using the bathroom – and over 700 deleted files. DNA found on the camera's memory card can be said with "extremely strong scientific support" to be Keating's, according to the prosecutor, and a search of the former diplomat's laptop showed he had searched for and accessed the camera manufacturer's website, including a page on how to set up the device and which "operational modes" were available.
The camera's homemade mount was found covered in a layer of dust, suggesting the surreptitious filming had been going on for some time.
"This is a circumstantial case and, we say, a weak one," Keating's lawyer, Ron Mansfield, said. "The evidence doesn't tell you who did it and it certainly doesn't tell you it was Mr. Keating."
Also on rt.com
Ooops! Google admits it forgot to tell users about its hidden spy microphone
Keating initially pleaded not guilty to the charges last March, resigning from the New Zealand Defence Force – where he had served for over four decades – two days after his court appearance, where he unsuccessfully tried to have his name suppressed from public record, claiming revealing his identity would cause his family "extreme hardship." Because of diplomatic immunity, he was not prosecuted in Washington DC, even though the alleged offense occurred there.
If convicted, Keating could serve up to a year-and-a-half in prison, though his career as a public official has already swirled down the drain.
Think your friends would be interested? Share this story!
You can share this story on social media: