Paris prosecutor opens fresh inquiries into Macron officials over ex-bodyguard scandal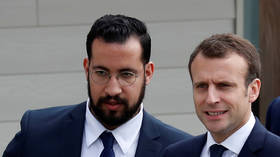 French prosecutors have opened two new preliminary investigations into the case concerning Alexandre Benalla, the disgraced former security aide to President Emmanuel Macron.
Benalla was taken into custody in January following French media reports late last year that, after he was sacked in a scandal over his use of riot police garb while beating up a protester, he'd continued to use his government-issue diplomatic passport to travel abroad.
Also on rt.com
Ex-Macron bodyguard Benalla in custody over use of diplomatic passports – prosecutor
On Monday, French prosecutors revealed two new investigations have been launched on foot of a report from the Senate after a public inquiry. French legislators had flagged suspicions of false testimony by Benalla, Macron's chief of staff Patrick Strzoda, and former presidential employee Vincent Crase.
Le Monde reports that the second, fresh investigation focuses on Benalla, and on suspicions of withholding information.
Like this story? Share it with a friend!