'I'm an assassination risk': Assange to Ecuador court in leaked testimony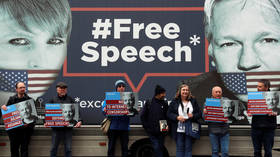 Ecuador will be violating its own constitution if it expels Julian Assange from its London embassy while fully aware of a possible "assassination" plot against him, WikiLeaks suggested, releasing the journalist's court testimony.
Article 79 of the Ecuadorean constitution guarantees that "in no case shall the extradition of an Ecuadorean be granted," Assange told the Ecuadorean court back on October 29, when he requested the restoration of his communication privileges.
Also on rt.com
Assange may be expelled from Ecuadorean embassy within 'hours to days', govt source tells WikiLeaks
A transcript of Assange's statement was released by WikiLeaks after news of his imminent expulsion from the embassy made the headlines on Thursday. While a great deal of Assange's testimony defends his right to stay in the embassy after being granted asylum and, subsequently, citizenship, the 47-year-old also accused the government of Lenin Moreno of illegally limiting his communication rights and bowing to pressure from the US, which seeks his extradition for revealing some of Washington's dirty secrets.
Also on rt.com
WikiLeaks supporters mobilize to prevent Ecuador from expelling Assange from UK embassy
"The fact that a government controls a particular piece of space does not mean it can violate its Constitution, can violate UN-mandated rights, that it can engage in punishment without process," Assange told the court, revealing that, besides threats of unjust prosecution, he also faces direct threats against his life.
There have been attempts by people to get into this embassy through the windows at night. I am an assassination risk. It is not a joke. It is a serious business.
Like this story? Share it with a friend!
You can share this story on social media: