'Pre-election gift to Netanyahu': Iran FM bashes Trump's designation of IRGC as 'terrorist' org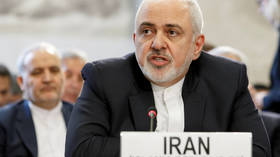 Iran's Foreign Minister Javad Zarif has called the Trump administration's decision to designate Iran's Revolutionary Guards (IRGC) a terrorist organization an "election-eve gift" to Israeli Prime Minister Benjamin Netanyahu.
US President Donald Trump announced the "unprecedented" step in a statement on Monday, which labeled Iran a "state sponsor of terrorism" and claimed that the IRGC "actively participates in, finances, and promotes terrorism as a tool of statecraft."
Responding on Twitter, Zarif wrote that the move was "another misguided election-eve gift to Netanyahu" and another "dangerous US misadventure in the region." The move comes just ahead of Israel's election on Tuesday during which Netanyahu is hoping to be re-elected. Iran has accused Trump of trying to bolster Netanyahu, who faces serious corruption scandals in Israel, ahead of the election.
A(nother) misguided election-eve gift to Netanyahu. A(nother) dangerous U.S. misadventure in the region.

— Javad Zarif (@JZarif) April 8, 2019
Trump has repeatedly taken provocative pro-Israel stances during his time in office, including formally recognizing Jerusalem as Israel's capital and recognizing Israel's"sovereignty" of the annexed Syrian Golan Heights.
Also on rt.com
Bibi-Trump bromance: How the leaders of US & Israel capitalize on each other
In a direct response to the classification of the IRGC as a terrorist organization, the Iranian Supreme Security Council declared the US a "terrorist government" and labelled the US Central Command (CENTCOM) a terrorist group. Tehran called Trump's decision an "unlawful and unreasonable action."
Like this story? Share it with a friend!
You can share this story on social media: