India shows radar data, claims to have radio intercepts proving it shot down Pakistani F-16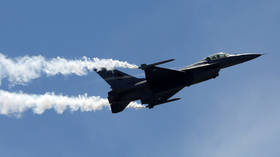 The Indian military offered more evidence to prove that they had shot down a Pakistani F-16 fighter jet during a clash over Kashmir in February. Islamabad denies flying US-made aircraft on that day.
The dogfight between Indian and Pakistani warplanes over the contested border region on February 27 marked the highest level of military confrontation between the two nuclear powers in decades. India lost one of its aircraft in the fight and insists it had shot down one of their opponent's F-16s. Pakistan denied the loss and insists it didn't use the US-supplied plane during the sortie.
On Monday, the Indian Air Force (IAF) held a press briefing to provide additional evidence proving that their version of what had happened is true. Air Vice Marshal RGK Kapoor, the deputy commander of the IAF, showed images, which he said reflected the air situation in the area as picked up by Indian AWACS planes.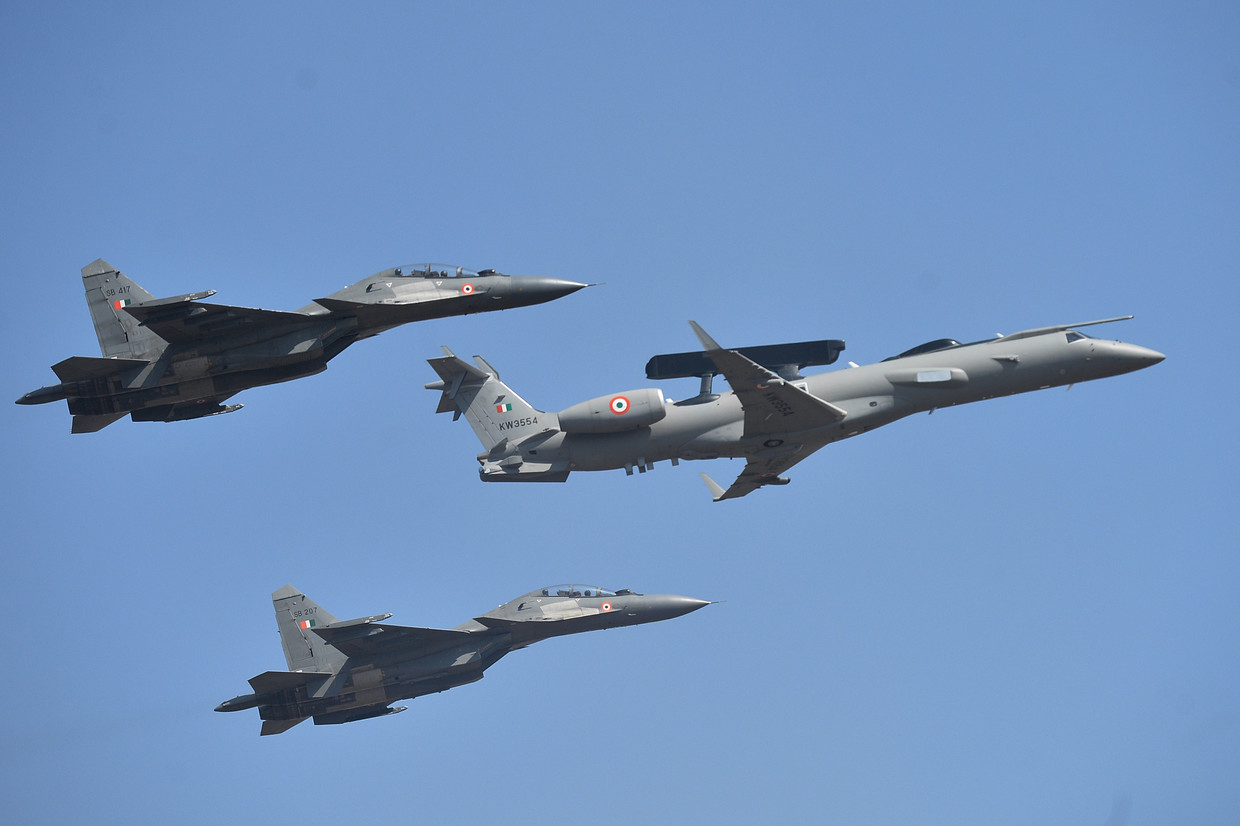 The abbreviation stands for "airborne early warning and control" and refers to an aircraft carrying a powerful radar station, communication equipment and other instruments to conduct long-range surveillance and provide targeting data for military aircraft. The IAF operates three domestically-produced aircraft of this type based on the Brazilian Embraer ERJ fuselage.
The images, the Indian official said, showed the development of the aerial fight. Radio signatures of the Pakistan Air Force (PAF) aircraft identified them as both F-16s and JF-17s – a model that Pakistan produces in corroboration with China.
#BREAKING: Indian Air Force (IAF) releases AWACS (Airborne Warning And Control System) radar images and Indian Army sighting details as Air Vice Marshal RGK Kapoor confirms Pakistan F-16 was downed by Indian Air Force Mig 21 Bison on February 27. Evidence out to nail Pak lie. pic.twitter.com/JNKcQP7F7Y

— Aditya Raj Kaul (@AdityaRajKaul) 8 апреля 2019 г.
One of IAF's MiG-21 Bisons engaged a PAF F-16, shooting it down, before in turn being taken out by a Pakistani fighter jet, according to the Indian version.
Slide 1. Radar track of air battle between Wing Commander Abhinandan Varthaman and a Pak F-16. Red circle shows track of F-16. Blue circle is Abhi's MiG 21 Bison. (Keep reading) pic.twitter.com/hgxo66wTIf

— Vishnu Som (@VishnuNDTV) 8 апреля 2019 г.
2. Slide 2. 8 seconds later - Track of F-16 being targeted disappears. 2 other F-16 hostiles continue being tracked (inverted U symbol) on the left of the screen. pic.twitter.com/5Ph1hK8RUn

— Vishnu Som (@VishnuNDTV) 8 апреля 2019 г.
Indian officials said they also have intercepts of radio communications gathered by Indian signal intelligence that confirmed that the downing of an F-16 happened, but would not immediately release them or their transcripts.
#BREAKING: Indian Air Force has irrefutable evidence of not only the fact that F16 was used by Pakistan Air Force in 27 Feb, 2019 but also that an IAF MiG 21 Bison shot down a Pakistan Air Force F16. Fresh statement from the Indian Air Force with details. pic.twitter.com/Farhrj4Pb2

— Aditya Raj Kaul (@AdityaRajKaul) 8 апреля 2019 г.
The IAF also cited conflicting statements, from Pakistani officials on the day of the engagement, on the number and status of pilots taken into custody by the Pakistani side, with the Indians claiming the confusion confirmed that more than one pilot landed on Pakistani territory.
According to Islamabad, only one pilot landed on their side, the Indian officer from the downed MiG-21. The IAF said two parachutes were spotted by Indian observers in the area.
Also on rt.com
US looks into claims Pakistan misused F-16 fighter, as media war over Kashmir clash heats up
Pakistan and India have been making significantly conflicting statements about what had happened during their two-day stand-off in February, including the intentions and the outcomes of the missions they conducted. The debate on whether Pakistan lost an F-16 reportedly has higher stakes than simply defending national pride and justifying use of force.
According to some reports, the US sold its warplanes to Pakistan on a condition that they would not be used outside of national airspace without US consent. Their presence over Kashmir on February 27 may be considered a violation of those terms by Washington – and consequently could result in sanctions. Or at least this may be the line of thinking in the Indian leadership.
Like this story? Share it with a friend!