#1917LIVE, #Romanovs100 make it to finals of ADC, one of the world's oldest awards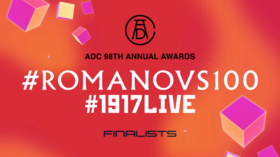 RT's #1917LIVE & #Romanovs100 have made it to the finals of the oldest and one of the most prestigious awards in design, marketing and advertising – the ADC Awards.
This year, on May 6, the prizes for creative achievements will be awarded for the 98th time, which makes the ADC Annual Awards the oldest continuously running industry award show in the world.
#Romanovs100 teaser videos were nominated for 'Motion/Film – Television/VOD promo'. The teasers were especially shot to bring real photos of the Romanov family to life, creating short clips of what might have happened just seconds before the pictures were taken. The crew used 16 and 8mm film to add authenticity to the production.
#Romanovs100 posters created using ambrotype printing will run for 'Photography by agency'. In ambrotype photography, which was invented in the 1850s, the print is created on glass, not paper. Similar to a Polaroid shot, each image is unique and cannot be reproduced, as opposed to film photography when one negative exposure may produce numerous positive images.
The #1917LIVE book is nominated for 'Innovation – Publication Design'. This book is a dynamic and interactive Twitter-style retelling of the Russian Revolution: printed pages, photos and tweets — will come to life if you scan the featured QR code with a smartphone. #1917LIVE is a 3-time Cannes Lyons finalist and boasts 25 awards, including such acclaimed prizes as Webby, Epica, Shorty, and more.
The #1917LIVE and #Romanovs100 projects both told the story of the Revolution of 1917 that did away with monarchy in Russia, but from different angles. The first one was a crowd project on Twitter that simulated all kinds of real participants of those events, from workers to the tsar, and from police to the Bolsheviks. The latter focused on the behind-the-scenes life of Nicholas II and his family, the last ruling royals of Russia.
#Romanovs100 is currently also up for a Webby in the 'Best photography and graphics' category. With an ongoing open vote, you can help the digital photo-narrative make history by voting HERE. So far, the project holds 11 awards, including a Clio Entertainment, The Drum Social Buzz, and PromaxBDA.
Subscribe to RT newsletter to get stories the mainstream media won't tell you.