India may attack Pakistan in mid-April, Islamabad says citing 'reliable intelligence'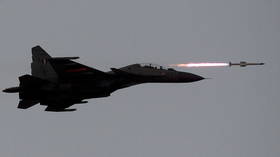 The Indian military may attack Pakistan sometime in less than two weeks, Pakistani Foreign Minister Shah Mahmood Qureshi claimed citing "reliable intelligence." The two nuclear powers had a major flare up of tensions in February.
"We have reliable intelligence that India is planning a new attack on Pakistan. As per our information this could take place between April 16 and 20," Qureshi announced.
The minister, who was visiting his hometown of Multan on Sunday, told journalists that Pakistan shared its concerns with the five permanent members of the UN Security Council. The official would not elaborate on what evidence Islamabad has to back his claim, but indicated he was speaking on the instruction of Prime Minister Imran Khan.
Later on Sunday, Pakistan also summoned a Delhi envoy and lodged a protest against any potentially drastic steps. "Indian deputy high commissioner was summoned for demarche in line with Foreign Minister's briefing of today and warned against any misadventure," Pakistan's Foreign Office spokesman Mohammad Faisal said in a tweet.
India would not immediately respond to the allegations.
Tensions between the nuclear-armed rival neighbors escalated this year after a suicide bombing attack killed dozens of Indian police troops in the disputed region of Kashmir in mid-February. Two weeks later, Indian warplanes conducted an air raid on Pakistani territory, targeting what India said was a training camp of the militant group which claimed credit for the attack.
An outraged Pakistan retaliated on the following day with its own bombing raid in the Indian-controlled part of Kashmir, which escalated into a clash between two nations' air forces. India lost one fighter jet and claims to have shot down one of Pakistan's F-16 aircraft, which Islamabad denies.
The situation was deflated within days, with Islamabad quickly releasing a captured Indian pilot from the plane it shot down. The stand-off led to surge of nationalist feelings on both sides.
Also on rt.com
India claims 7 Pakistani military posts destroyed in latest Kashmir flare-up
Each nation has accused the other of being the source of the flare-up. India said Pakistan was covering up for Jaish-e-Mohammed, the militant group behind the bombing, instead of helping to stop their terrorist activities. Pakistan accused India's ruling Bharatiya Janata Party (BJP) of fueling "war hysteria" ahead of crucial elections in the country.
Think your friends would be interested? Share this story!
You can share this story on social media: