Pushing a new line: Drug lord El Chapo's wife launching a fashion brand bearing his name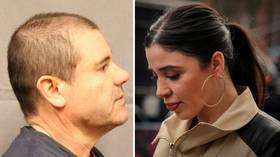 Emma Coronel Aispuro, the wife of the recently convicted Mexican drug cartel boss, Joaquin 'El Chapo' Guzman, has announced the launch of a fashion brand in his name. The idea did not sit well with the US authorities, though.
As the kingpin of Mexico's largest Sinaloa drug cartel, who was once one of the world's most wanted criminals, faces life in prison, his wife – a former US beauty pageant queen – has seemingly found an inventive way to capitalize on his name. Earlier this week, Aispuro, 29, announced her plans to launch an 'El Chapo Guzman: JGL' fashion brand by summer.
"I invite clothing designers who are starting out and who want to join the project, to work with me," Aispuro wrote in her Instagram, which has more than 100,000 followers.
Also on rt.com
Mexican drug cartel leader El Chapo found guilty, faces life in prison
The drug lord's wife also proudly boasted that her goal was no less than "projecting my style and Joaquin's" as well as to "please everybody." While El Chapo himself is not expected to get anything from this new enterprise, he allegedly personally approved the idea, as he signed off on his wife's venture right in his cell in a New York prison. It remains unclear, however, what exact contribution to fashion could be made by a common clothes-wearing man, who mostly gained international notoriety for his repeated escapes from Mexican custody – particularly through a 1.5km underground tunnel – and not by being a fashion icon.
The upstart project is facing problems though, as the US authorities were less-than-amused by the prospect of a criminal's name being used for a fashion brand. Such a trademark would allegedly "violate public order, morality and good manners."
Also on rt.com
Jets, lions and private beaches: El Chapo's luxury lifestyle laid bare by former henchman
El Chapo's lawyer and Aispuro's "designated representative," Mariel Colon Miro, however, maintained that the project was running smoothly by boasting that she "received a lot of responses from designers who are interested in forming part of the project." Dismissing the possibility of legal hurdles she said that "the trademark application was filed and we are just waiting."
El Chapo, 61, was found guilty on all 10 charges related to large-scale drug trafficking and murder conspiracy in the climax of the 11-week-long trial in February. The notorious criminal, who ran a criminal empire as complex as a big international corporation and was repeatedly compared to another infamous drug lord, Pablo Escobar, already found his way into popular culture, when Netflix and Univision co-produced a TV series about his life.
Like this story? Share it with a friend!
You can share this story on social media: