Shocking footage captures deadly collision between ambulance and train (GRAPHIC VIDEO)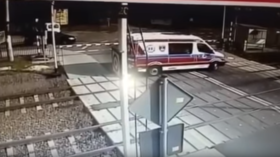 Two people were killed and one was injured when a train collided with an ambulance at a guarded railway crossing in Puszczykowo, Poland this week. The horrific and tragic incident was captured on CCTV.
A doctor and a paramedic from the Provincial Emergency Service Station in Poznań were killed by a InterCity train from Gdynia to Katowice.
Their injured paramedic colleague was taken to hospital by helicopter and underwent emergency surgery. They remain in critical condition and are being kept in a medically-induced coma for the foreseeable future.
The driver of the ambulance allegedly ignored traffic signals at the level crossing and attempted to drive under the barriers before they closed. When the barrier did close, the driver tried and failed to complete a U-turn in time and was tragically struck at full speed by the oncoming train.
Also on rt.com
Horrifying moment of deadly Florida highway helicopter crash caught on camera (VIDEOS)
"From the preliminary findings it appears that the equipment on the crossing was working properly. The special commission is working on the site. A special commission will explain the circumstances of the event," a police spokesperson said.
Passengers on board the train were transferred to buses and taken to their destination while police cordoned off the train and the site of the crash for forensic examination.
Think your friends would be interested? Share this story!