Salvini meets Le Pen in Paris, teases a 'major' right-wing event in Italy ahead of EU elections
Published time: 5 Apr, 2019 14:50
Edited time: 6 Apr, 2019 09:05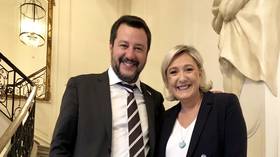 Leader of Italy's Lega party Matteo Salvini has met France's National Rally chief, Marine le Pen, to discuss upcoming EU elections. Salvini also teased a right-wing rally the likes of which Europe has never seen before.
The two right-wing politicians met in Paris on Friday, when Salvini came to France to meet fellow interior ministers of the G-7 group.
Le Pen and Salvini – who are longtime allies at the EU-level – had a "cordial meeting," according to local media. The two discussed the upcoming European Parliament elections, which are set to kick off on May 23.
Also on rt.com
'Now to change Europe': Italy's Salvini sets sights on EU elections after regional win over the left
While few details of the meeting have been made public, both Le Pen and Salvini took to Twitter afterwards, posting a photo of them together and showing their joint resolve ahead of the polls.
"We're ready together with Matteo Salvini to win the European elections on May 26," Le Pen wrote.
Salvini, on his part, said that the two are seeking to bring new members into their alliance and help to "bring some common sense to Europe." After the talks, the Italian politician also teased a planned get-together rally of right-wing parties from all across Europe ahead the elections.
"We're preparing a major event for the Europe of the next 30 years in May in Italy, where we'll invite all the European movements that are alternatives to the rule of the Socialists and the European People's Party of recent years," Salvini told reporters.
"It will be the first time an event drawing together at least 15 or 20 European countries will take place in Italy."
It remains unclear, however, which specific right-wing parties will attend the event. Salvini's Lega (League) party is a member of the Europe of Nations and Freedom (ENF) bloc, together with Le Pen's National Rally and Austria's Freedom Party.
Also on rt.com
Eurosceptic parties set to double seats in EU Parliament after May elections – poll
Think your friends would be interested? Share this story!