Show of respect or insult? Analysts clash on hijab-wearing Western women in Iran (VIDEO)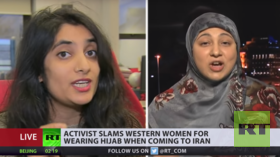 Are hijab-wearing Westerners in Iran paying respect to local culture or compounding the suffering of local women who dare to protest against compulsory head covering? The newest controversy is hotly debated on RT.
Iran's women's rights activist Masih Alinejad sparked a heated debate when she slammed female visitors from the West who choose to wear a hijab in the Islamic Republic out of respect for the local culture. The founder of the White Wednesdays movement, who leads a campaign against compulsory head-covering, elaborated that such a stance confuses culture with a "discriminative law." She said it is therefore an "insult" to local women who are left "on their own" in their fight.
It will be difficult for Western women who wore hijab on Hijab Day, at the Women's March, or in NZ to watch this and not feel shameListen as @AlinejadMasih explains how you've betrayed womenWe all deserve freedom...not just youSTOP supporting our subjugation#FreeFromHijabpic.twitter.com/fzN5u5KfrO

— Yasmine Mohammed (@ConfessionsExMu) March 24, 2019
The RT debate saw sparks fly as guests discussed the controversial comments.
Images of Western women with their heads covered in Iran could nudge local politicians to suppress local women, Sadia Hameed, a spokesperson of the Council of ex-Muslims of Britain, believes. "They will start to use it as a stick to beat them," she told RT, adding that Westerners wearing hijabs "are taking away [local women's] chances."
Women [in Iran are] being thrown into prison, tortured, raped by prison guards for choosing to remove their hijab.
Despite being depicted by Western media as a repressive tool, the hijab is something that most women in Iran choose to wear themselves, Maryam Saleh, a journalist and a university lecturer, argued. Very few of them protest against the law, she added.
The hijab does not demean women, it actually makes them become human beings.
WATCH THE FULL VERSION OF THE DEBATE:
Like this story? Share it with a friend!